Description
Born in Serbia
 Looking for your next favourite knife? This is a true collectors piece that will serve you for two decades or more.
Snažan is Serbian for power and strength. We gave this knife that name to represent its Serbian heritage. Also because of its long lasting strength in the kitchen.
Hand forged and Unique, you can not find these knives anywhere. These are forged in the far-east using ancient quenching techniques. This knife truly is an art piece.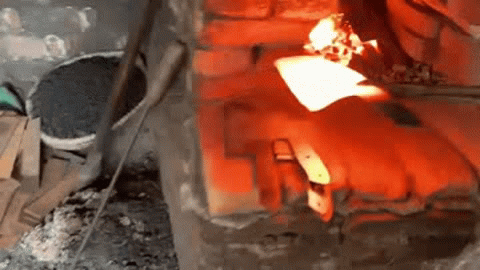 Our bestselling knife. For the past two years Snažan chef's knife has been the most ordered knife and for good reason. Out performing most knives in the kitchen. Its weight and shape combined with its sharpness make it great for all types of cooking. Just a great all round knife.
High endurance blade, Look after this blade it and it will take care of you. High carbon steel is extremely tough and providing you take care of it will stay extremely sharp for 20+ years.
Knife Care is simple, wash after each use and lightly oil the blade (any cooking oil is fine). This will prevent rust.
Each Knife is made completely by hand by our blacksmiths. Every blade goes through 8 rounds of hand hammering and 13 rounds of polishing and sharpening producing a high retention blade edge.
Our blacksmith's have many years of experience and a great attention to detail. Every knife is perfected from start to finish by hand, Finally then hardened by quenching and tempering.
Specification:
Blade Length: 6.69 inches (17 cm)
Blade Thickness: 0.15 inch (4mm)
Net weight: 0.66lb (300g)
Material: High carbon clad steel
Tang: wood with copper rivets
Pay safe online. Pay with your preferred payment method whether that is pay pal or credit card
loyal customers are rewarded greatly. Anyone who purchases from the shopzal will receive regular updates and discounts. Not to mention will be the first to know on new releases.